A GOLDEN JUBILEE FOR ASIAN BEACON
18th August 2019, was a milestone for Asian Beacon. The company had reached it's half a century mark. To commemorate this great event Asian Beacon held an anniversary dinner in the JW Marriot Bukit Bintang.
A lot of honourable guest were invited to the event. Among them was YB Hannah Yeoh, Deputy Women, Community and Family Development Minister. But what made Asian Beacon's 50th year even more significant was that it was the mark of Asian Beacon going fully digital. This would mean that there would be no more hard copies of the magazine. It was a mark of a new beginning for Asian Beacon. One which would be keeping up with the modern times. With the last physical magazine was the October-December 2018 issue, the event was sort of a bid farewell to the printed magazine and welcome the age of the digital world. As the digital efforts are still underway, readers can now fully immerse themselves into bite-size contents provided at the Asian Beacon website.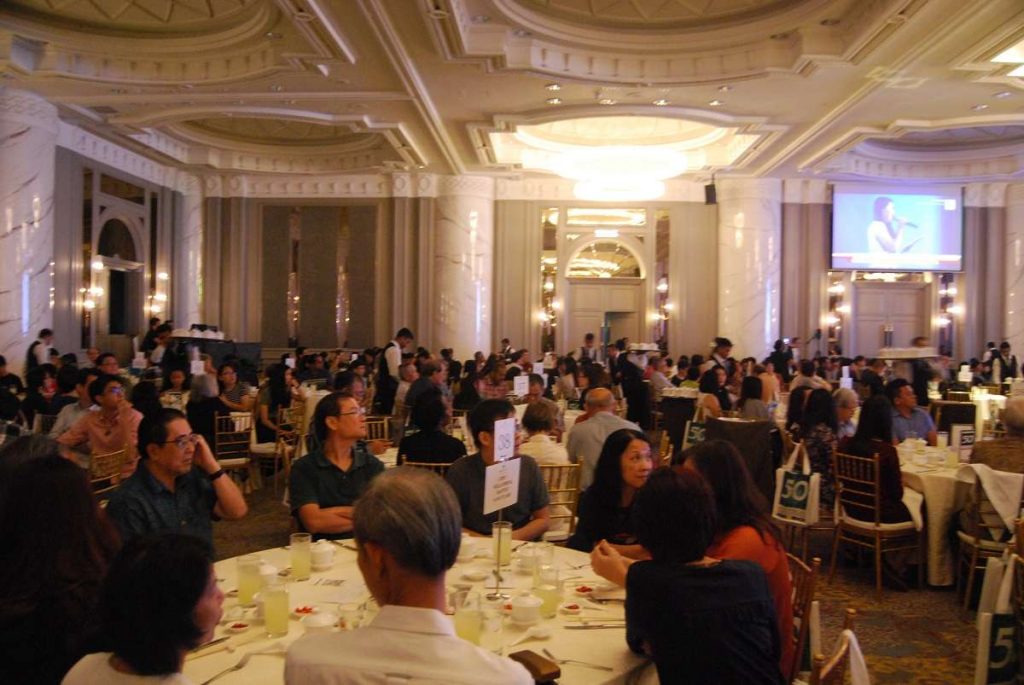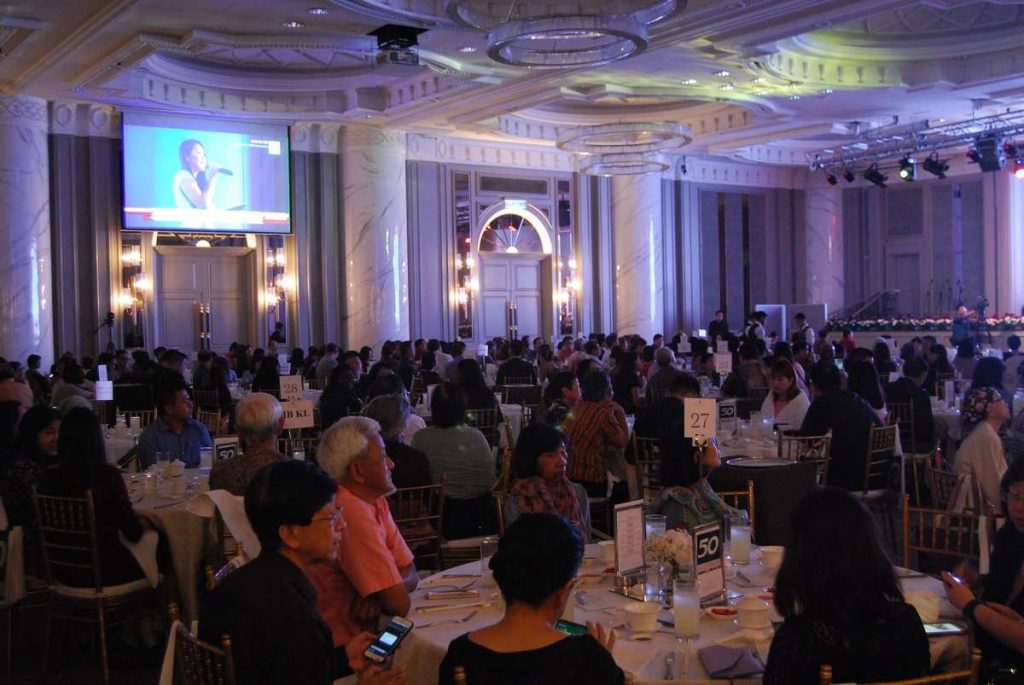 A full house gathering with guest from all over the country
All of this would not have been possible without God's grace and provision, and the support of many churches and individuals who have stood by Asian Beacon. Our thanks also go to the many volunteers who have given of their time, energy and services to this ministry over the years.
The event started off with a prayer by Asian Beacon long time exco, Reverend Loh, who begun with a word of prayer. The event started out with a performance done by the Orang Asli of the Temir tribe. They perform many songs in the national language giving their worship to God.
Next there was a video to showcase the history of Asian Beacon. A very special video it was a tale of how Asian Beacon came to be, as well as how it developed through the years. Relating it's early inception in 1969, the same year that man made it to the moon, Asian Beacon was started by Ben Sawatsky, an American missionary from the Evangelical Free church.  Originally an in-house magazine for the EFC and Sawatsky was the magazines first editor with the office in Petaling Jaya.
It that related to the time when it was then passed down from Morrie Palmer and then to Dr Chong Kwong Tek and his wife Goldie. What was special was that the Chongs were present at the event. They had been faithfully serving in the Beacon since it's early conception and blessed with longevity by God to do so to present. What was special about the video was that there were many of those who served in the Beacon over the past 50 years present there as well.
After a thanksgiving and introduction speech was made by Chairman Yoke Tee and Dr Chong, a special performance done by Koujee, a very popular Christian beatboxer in Malaysia.
He has collaborated performance via fashion shows with celebrity models, stage dramas, dancers, rappers, musicians, and artists in various events.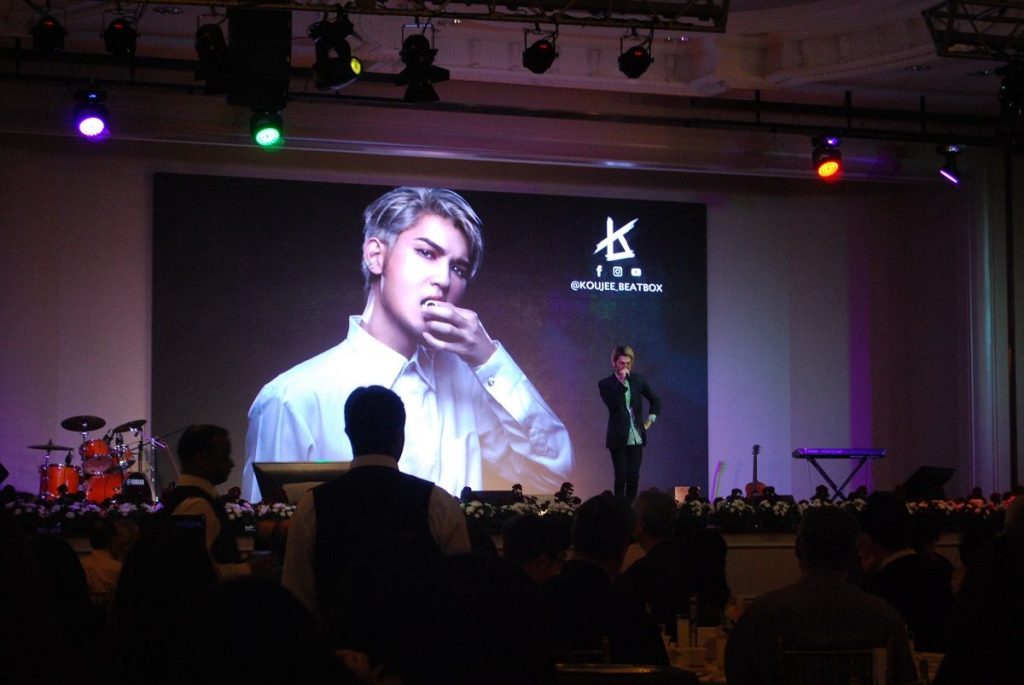 He had also been invited to perform internationally in different countries including Australia, Germany, China, Taiwan, Singapore and many more. Koujee is also a Malaysia's pioneering beatbox instructor, who trains children and adult in the arts of beatbox performance. The audience was blown away by Koujee's talent as the latter was able to mimic all sorts of noises using his skills as a beatboxer, and was even able to miming traditional Chinese music such as the Erhu and even sing at the same time.
After that it was the Asian Beacon App introduction and launching which was done by Chairman Yoke Tee, and the Asian Beacon App developer Danny.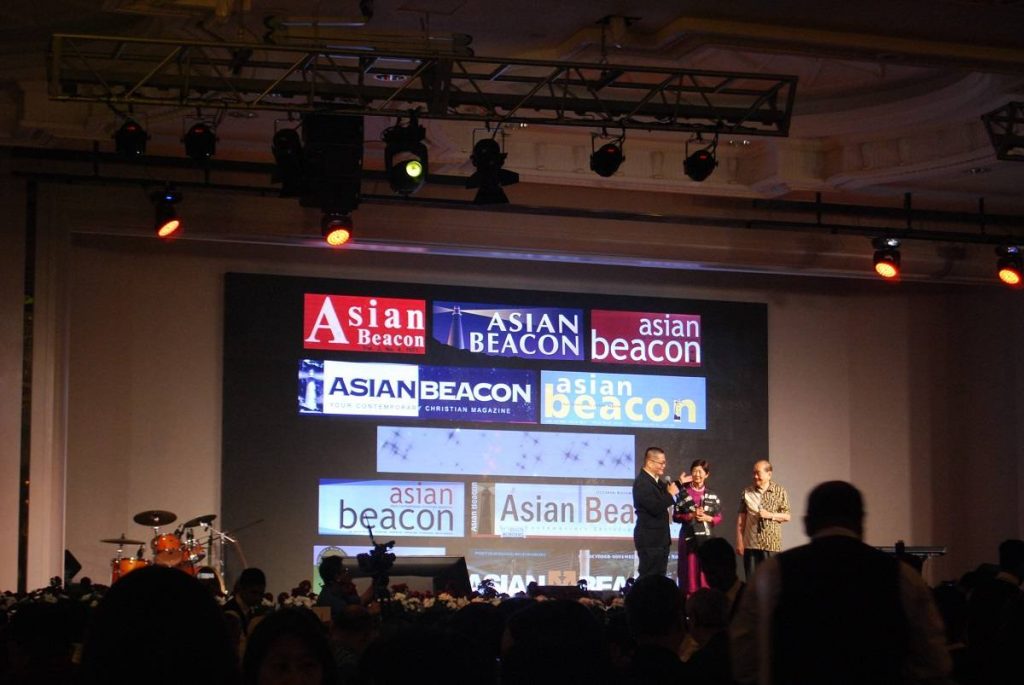 Among the new things that would be done as Asian Beacon became digital would be that Asian Beacon would become a platform that would offer services such as project management. It would also do marketing and promotional activities. At the same time it would continue it's publication of news and stories just as before in the hardcopy format. But on top of that it would also have much more content, and cover projects and events, biblical courses, mission projects, classifieds, resources and provide business opportunities.
Yoke Tee explained that this new direction was part of Asian Beacon's business plan to generate income and become self-sustaining. Therefore, it would built a full-time production team, with training and building a strong network.
Among the many performances of the night
On top of that it would invite institutional bodies to participate in Corporate Social Responsibility (CSR) projects. This would mean they would recruit volunteers and professionals to generate content.
To demonstrate a little on what was plan for the future of Asian Beacon, a short video of an interview with Hebrew Lesson teacher, Pastor Chris Choo was put up. This was to show that in the future, there would be classes such as Hebrew Lesson's that readers to register up for through Asian Beacon.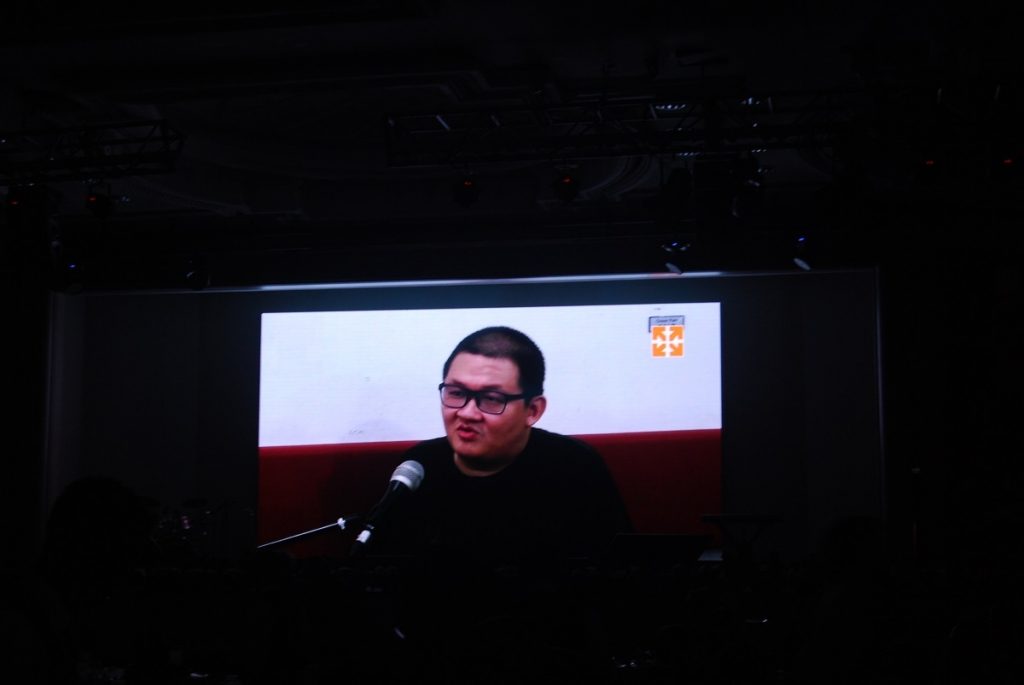 After that there was a video, of an interview done with Boo Yap, an online entrepreneur who makes a living out of his blogs. He had more than a million viewers for his blog, with numbers increasing daily. Boo Yap is one of those selected for future partnerships with Asian Beacon, to have workshops or classes to teach his skills to other budding entrepreneurs. This was highlighter by the Chairman under the Asian Beacon Partnership Program.  
Another partner under this program was Paul Gan, a movie producer. A short movie trailer which showcased his movie was shown.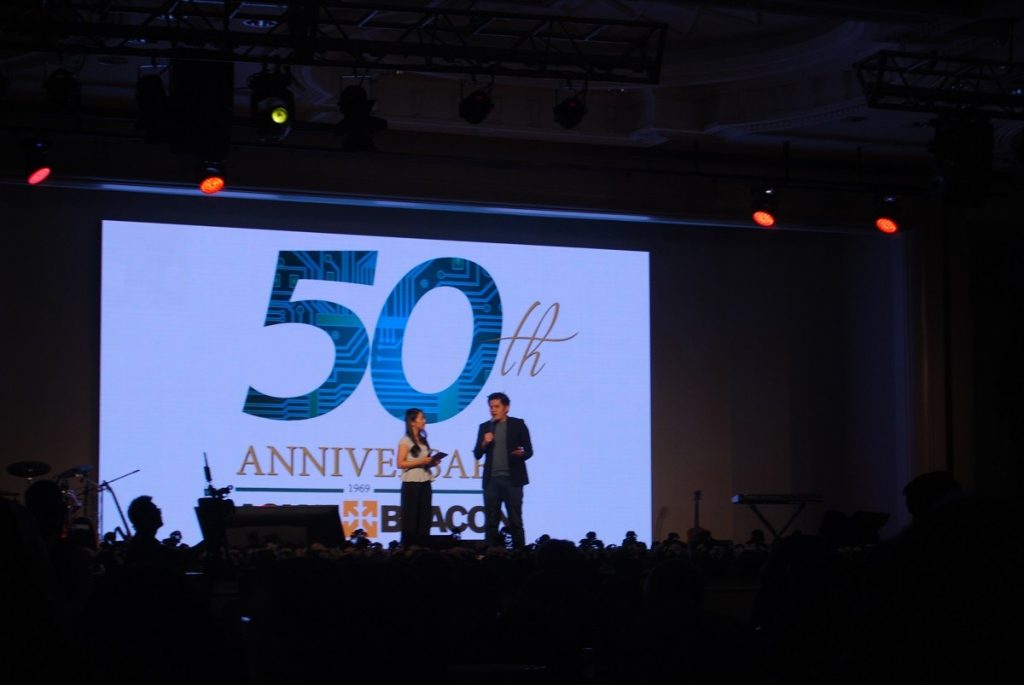 As the Chairman highlighted in he digital era when technological development is on the rise, collaboration is important.
He invited potential partners to submit their project proposals submission, Ideas, content, and expectations to Asian Beacon to form partnerships.
"From Asian Beacon's side we provide project management, publication of news and stories, and marketing and promotional activities," he said.
After the presentation, the event came to it's final event with popular Christian singers Priscilla Abby and Rambo Chai.  Priscilla Abby rose to fame on YouTube releasing song covers of artists like Shawn Mendes and Jay Chou. She has also released several original singles including "I Love the Sky." She earned her big break after she was spotted by celebrity producers Huang Guolun, Martin Tang and Kenn C at a local church singing competition. Rambo Chai is a lead singer in the local Malaysian indie band Slap.
Singer Priscilla Abby entertains the crowd with her songs
Together they brought the event to a grand closing, as they sand a duet together, which was followed a closing and prayer.
Many of the attendees were left impressed, and the event ending with an optimistic tone, with the new direction the 50th year old Asian Beacon was taking. You could say it was a rebirth of the Beacon for a new generation.