When Cheah Boo Yap, left his lucrative managerial job in Kuala Lumpur, to come to his hometown with nothing but was only a message from God 'Have Faith' and that gave him the courage to make such a bold move. It was two simply words and now Boo Yap owns and operates a series of websites which he runs solo in quaint little city of Alor Setar. They range from technology to sports, and even travel.
These websites generate enough income for him and allowing him to work from home.
But unlike other known work from home success, his wasn't about self-determination, ingenuity, or even luck. His was a journey of faith.
Boo Yap explained how he was being led from working in a very demanding industry in the heart of Kuala Lumpur, to that of starting his own work from home online business with just a single goal that he can have more time to spend serving in the Christian community works.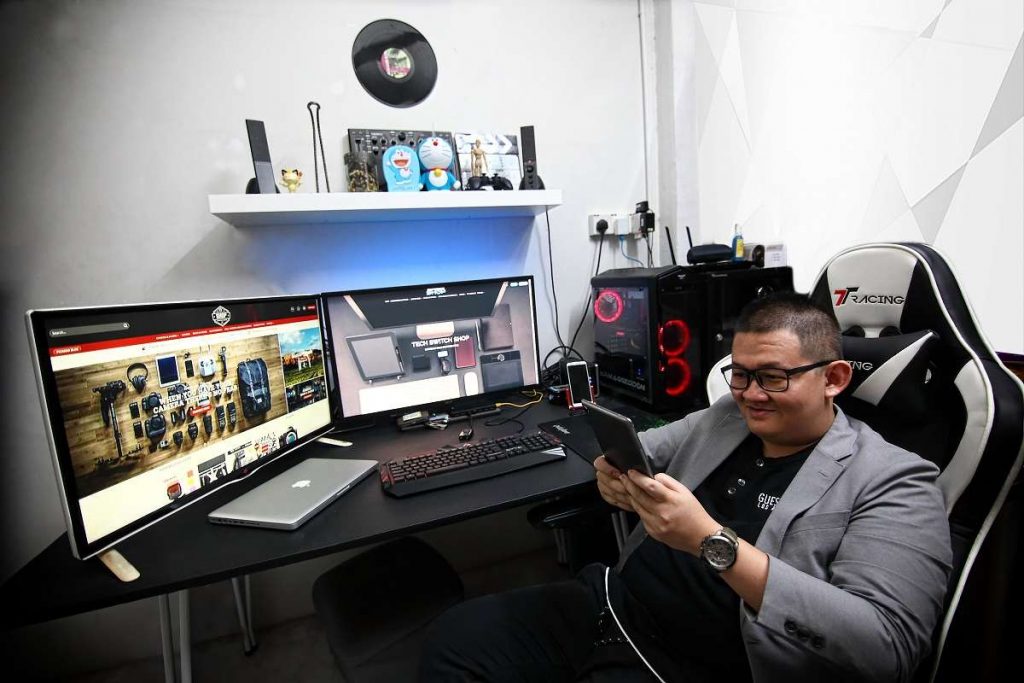 "I studied media studies at a private University. When I graduated, I joined a broadcasting company. Life was a very hectic. For example, a 30 second video production for a YouTube Advertisement his team had to start working around 10pm, and only finished at 8 am. It was extremely tiring and stressful. Realising this is not the life I wanted, I quit the industry. I then worked with my cousin, and worked part time for a Frenchman who was an owner for a couple of clubs and restaurants in the KL area," he said.
Together with his cousin, they rented a shop lot at Kenanga mall to start a shirt printing business,
"At that time, I didn't know that God had given me a certain talent, that I have the knack to help a business to grow with social media, a skill commonly known as social media marketing though I never received a formal education on it. It came naturally, that I can take pictures, edit them to create a stunning poster to be uploaded online for websites such as Facebook. I also have the gift of designing which I discovered when I help my company to custom-made design for shirts. It was such a hit with our customers that within a year our small shirt printing shop grew so much that we were able to move from a small back street shop to rent the more expensive front premium office space. But as the business grew, new issues arose. One was that I had to work on Sundays. My cousin agreed to let me go to church, but complained that I come back late. My cousin cum boss gave me little rest time, and I believe this was due to his greed. I have to decide to put church as a priority and I left," Boo Yap explained.
After leaving, the Frenchman which he was working part time offered him a full-time job to be his many restaurants and clubs social media manager. Just like in his previous job, God blessed the work of his hands, and there was an increase in Frenchman earnings.
"From RM8k per night, with the social media strategies I used, sales managed to go up to RM30k a night. I was promoted to a more senior managerial position. Although this was a great boost to my income, I also had to work longer hours. The reason was not because I was required to but due to my sense of responsibility I had to the customers, to see that everything was running well. My boss required me to work for a standard 7 hours, 2pm to 6pm, and 10pm to 1am. The strange thing in this part of KL is that patrons only start visiting the clubs and restaurants at around 2 am in the morning. So, I feel obligated check on the joints to make sure that everything was ok, as well as do a bit of socialising. By the time everything was done it was usually 5 am. This went on for almost half a year," Boo Yap explained.
Boo Yap soon realised that due to lack of sleep, his body was getting weaker and weaker. He begun to develop health issues. So he decided to take time to sit down, and evaluate his life.
"I asked myself what I was doing here? Was it for the high pay that I had being receiving? Sadly, it was true for if I let go of this job I had could not find another high paying job. But at the same time I do realised that if I continued with this job, I would die young, literally. So when all seems lost, I did what most practising Christians would do. I prayed. I prayed for direction on what should I do. God only gave me two words, 'Have faith'. So having faith, I left the hectic KL life and move back to Alor Setar."
Back in his hometown, Boo Yap found that there were almost no job opportunities with his skill level. So he lived on his savings for the time being. He also started to attend his hometown church which was Trinity Baptist Church, Alor Setar. It was at this place that he begun to attend a church camp that was held in The Regency, Jerai Hill Resort.
It was here that he was given a word of confirmation from the Lord.
"The speaker of the camp, Brother Peng Ho an elder from Acts church prayed for me during the alter call. The speaker told me it was a crazy move to come back to Alor Setar, which had nothing for someone with all my skills. Yet he added that I had a lot of faith. You have the faith to come back, and now you are doing ok. You are slowly growing. God has a plan for you," Boo Yap explained. 
He added that this gave him peace to be back in Alor Setar. His mother then asked his younger brother to teach him basic stuff on website programming, using WordPress.
"My brother earns a living online, asked me what kind of website would I like to do. I said something with tech stuff. So, he begun to show me how to start up my own blog. When I started, I didn't write on my own but used scrap articles from other people's blog with their permission. I also hired writers from websites such as Fiver. It was slow at first but after a year, traffic begun to go up, and then that was when a miracle happened. Some freelance writers began to contact me. They weren't looking for jobs. No, in fact they wanted to be guest posters for my blog. Meaning they would voluntary write for my blog in exchange for exposure. But better still to my surprise that they would pay me to use my blog," Boo Yap explained.
In fact, with this development, Boo Yap's blogs begun to move up the ladder of popularity, especially the ones about tech.
"At first I thought it was a scam. But I had nothing to lose, as they were the ones who pay me. I don't really know it had started to gain popularity when they took notice of my blog. This was when things started to pick up," Boo Yap added.
He said aside from writers, companies began to contact him, and send their products to him for reviews.
"The Huawei company contacted me to write a review for their Huawei M5 tablet which cost USD 500. They said they would send me the tablet for me to review. This was done through email, so I thought it was a scam. But two months later, the tablet arrived at my doorstep. This was the beginning of products being sent to my house for review. There were even software companies asking me to review their products too," Boo Yap testified.
He added that it was a surprise that he received so many request, as he never called anyone or did any effort to contact those companies and writers.
"All I did was just pray, and leave everything to God. I kept reminding myself to have faith," he said.
Boo Yap admitted however, it was not a smooth sailing journey. The first year was a dry year. He did not see any money coming in. So he had to work from Fiver as a designer. Also there were other technical issues that he had to face, like the website crashing and so on.
There was also the negative perception people had about him. First was when he came back to his hometown, and the other was about his job.
"When I first started, a lot of my friends didn't believe in what I was doing. Even my school friends. There were even gossips and rumours spreading about me behind my back. They couldn't believe I could run such a successful tech website. That I was running a scam and I was being boastful because I treated others when we had meals together. But this did not deter me from moving forward. And what I earn from my websites continued to grow. On good days I could earn a lot from single advertisers. When those critics saw that I was succeeding with what I did, they stop commenting, and began to be ashamed.  They even stop meeting for Chinese New Year gatherings," Boo Yap explained.
He added that he learned many valuable lessons from this incident.
"I don't have to prove anything to anyone. Why try to please everyone. Just have faith, and commit everything to God. Although I do not earn as much as before, I realised I can afford a lot more things, which I could never buy in KL. This is because I save more here, as well as avoid the high rentals and crazy traffic jams. To top that, God has been giving me things that could never can be bought with money. My health restored. The last time I worked in KL, I would vomit in the toilet even when I ate a little. My stomach was weak. Now back home my health recuperated. I had a head of white hair, which is now has turned black again.  On top of that I have freedom and time to serve. I now serve in TBC church as part of the media team, doing announcements and websites," Boo Yap  added.
He said that although he has come this far, he still sees himself at the early stages of running these websites. He believes that there is much more expansion to do. All he has to do is to have faith.
For those who are interested to view he sites, they can follow the links below.
https://techswitchcf.com/ (Technology News)
https://bullionist.cf/ (Business / Finance)
https://sporteer.ga (Sports)
https://modagab.cf (Fashion and Entertainment)
https://autonuova.cf (Cars and automobile)
https://whoohub.ga (Music and Entertainment)
https://staytoplay.cf (Travel)
https://blog.picaboo88.com (Photography)
https://shop.techswitch.cf/ (Gadget Shop)
https://kudocore.com/ (PC Shop)
https://shop.picaboo88.com/ (Camera Shop)