Do not judge them by their music and outward appearance
Army of Three (AOT) is a popular mainstream rock band whose members have a rock solid faith in Christ Jesus. The band comprises four musicians – lead vocalist Jeffrey Kumar, bass guitarist and back-up vocalist Darren Teh, lead guitarist Alex Martin, and drummer Edmond Matthew.
They love loud music and head banging but behind the curtains, they are passionate for their Saviour and have a gentle heart for their community of rock fans.
For the past 13 years, AOT has been writing and performing songs that revolve around their Hope. "The message is you could be in a not so nice place and you could be struggling, but do not lose hope; look to the sky, look to God," Kumar pointed out. Their songs are meant for all – in and out of the four walls of the church – and especially the rock enthusiasts.
For the many that are not in the rock genre, they would most probably go, "Uggh! Stop it! I don't know what you are screaming about!" But for those who rock this type of music, they are compelled to discover and understand the lyrics of the songs.
"Then the songs will make sense as will reach out to the listeners," Kumar explained.
FORGING FRIENDSHIP WITH ROCKERS
AOT aims to make friends with the rocker community and they've found it is not difficult. "More than anything, they (the rock community) want to enjoy good music. If you're a local band, they'll want to get to know you even more," Kumar said.
Along the friendship-building path lies the potential for a story of salvation. Martin related a story about their encounter with a band called Furian Esclada in an underground gig years ago. At this dingy place, AOT met the fierce-looking members of Furian Esclada.
Nevertheless, they were able to befriend the group. "Because of our friendship and because they like our music, the band's lead singer, remembers me," Martin continued.
"Years later, God told the lead singer to 'go find Alex' (Alex Martin). He was going through a lot of turmoil and he needed answers, a way out of his situation, so he called me. When I met him, he said, 'Bro, my brother is dying'."
Martin promptly responded by asking him to read the Bible and pray. "The lead singer had backslided after his father's death. He was young then and to get love and attention, he and his dying brother had committed many wrongful acts, and they were reaping what they had sowed."
After talking to Martin, the lead singer began his journey of return to the Father and he now serves closely with Martin in the worship ministry in Acts Church Ampang. He also helps drives the community kids to Sunday services. And another miracle – his brother is still alive and recuperating from his illness.
"It is an amazing testimony where a friendship was built out of this music that we love together," Martin enthused. "We are to be understanding and available. Sometimes when our friends have achieved fame, they will feel big-headed, but when they hit rock bottom, they will start looking for someone to talk to and that's where we come in."
The AOT team recognises their calling to be "big brothers" to young aspiring bands, to be a listening ear and guide in their times of deep need. To reach out to the people in their rock community, AOT accepts gigs at any kind of venues, concerts, festivals and even bars. "We interact with them in the same way we interact with others but we do not do the things they do that clash with our faith," Teh clarified.
"This music genre gives us access to places that may be not decent, and the people might be into various kinds of vices," Kumar added. "God hasn't called us to go and flip tables. He just asks us to go and play our best."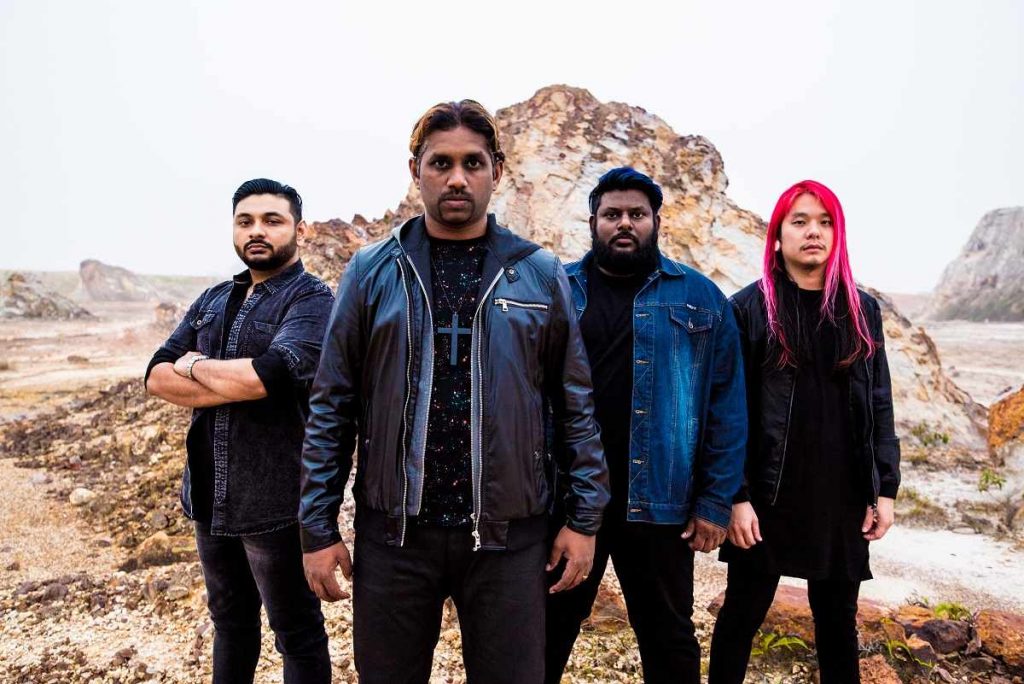 BREAKING THE STEREOTYPE OF WORSHIP
AOT released a second album, "Heartcore", in 2016. One of the original songs, "Wonder of Your Greatness", shot to the third spot in hitz.fm MET. "It is actually a worship album, not as loud as the previous album but it was still in the rock category," Kumar laughed.
In all their performances on stage, whether in or out of church, they strive to give a heartfelt response to God. "In every note, every gesture, we consciously worship God," Kumar said.
"Sometimes we have tears in our eyes and we don't even know why, but we look at each other crying," Martin added. He related a tearful experience he had after one worship session that AOT led. An old man walked up to the band and told them, "Whatever you guys did just now, that was different."
The band saw the old man's appreciation as an affirmation of worship to God. "We offer everything we have to God, God takes the throne and He will draw all men to him," Martin asserted.
After 13 years of ministry under the rock category, AOT still believes the vision and the reason they were set apart for this mission. "Our music reaches out to people and tells them that there are other kinds of music aside from Planetshakers'," Teh said.
"We knew what we were getting ourselves into. We knew that we are not going to play in many churches and be accepted with arms open wide," Kumar admitted and added that rock music has its place in ministry.
Different kinds of songs reach out to different people, Martin chipped in, and AOT is determined to be humbly faithful to what they have been called to do. Their music mainly impacts teens to young working adults. Aside from being approachable at gigs and music events, AOT is happy to connect with youth via their FB page and.
Asian Beacon: Apr – Jun 2018 (Vol 50 #2, p34-35)