Making Films for the MAKER
Who would have thought that two amateurs and a hand-held camera would win local and international awards for short films? God works in ways beyond human expectations, as amateur film makers Pastor Winson Phuah and Kyle Soong discovered. They share their story with Asian Beacon.
Winson and Kyle have always been passionate about short films. Furthermore, they realised that the most effective way to reach this young generation is through digital media. So in 2014, while serving as the youth pastor of B & P ministries, Winson discussed the idea of starting a production company with Kyle where he would be the producer and Kyle the director.
But they wanted to be sure and asked God for a sign. While waiting for His sign, the duo signed up for the Berjaya Youth Short Film Competition. "The top prize was RM30,000 cash and a Mac Book Pro computer worth RM15,000. We figured that if we won, it would be the sign from God," Winson said.
Their video entry, titled "Sam Sir", was based on Winson's journey to becoming a pastor. The story revolved around the character Sam and his friends and their dreams in life. The film opened with flashbacks of their student days and their discussions about their dreams. All had big dreams, except Sam who just wanted a happy life.

Fast forward to the future and the scene showed Sam and his friends talking about their jobs and material possessions. The most successful was the student who wanted to be a successful businessman. Sam, on the other hand, had settled into teaching and this provoked ridicule from his friends. The story ended with the entrepreneur confessing that he envied Sam, who might seem the simplest but was in fact the happiest.

Simple, yet deeply moving, the film won the first prize.

Winson admitted they had aimed for the top prize, they didn't expect to win. "It was truly by God's grace. Our greatest struggle was manpower as we did not have a full-time crew. We were only two people, and all the others were volunteers," Winson shared.

"Winning the first prize was God's sign for us to set up the video production firm. As an act of thanksgiving, we gave the entire cash prize to the church, which was used to set up the video production ministry, called Seed Pictures. As for the computer prize, we're still using it for our production."
ROLLING SUCCESS
From entering and winning the local competition, Winson and Kyle took on the next challenge of an international competition. In 2016, Seed Pictures took part in the Golden Eagle Award, a global Chinese gospel short film competition held in Taiwan. They were up against contestants from 14 countries but once again, as if God was confirming their decision to set up Seed Pictures, they clinched the top prize.
Their entry was titled "Now I See" and focused on what it really meant to "be Jesus" to the people around us, especially the poor and marginalised. For this film, they had to find a Jesus-looking man for the main role.
"That was one of our biggest problems. We wanted a Middle-eastern actor but those we asked declined. After much praying, I saw a Middle-eastern man walked past me while I was having lunch one day. Immediately, I knew he was the one for the role as he fitted the part, with long beard and hair, which made him immediately identifiable as Jesus," Winson said.
"I quickly approached him and explained the role. He was surprised but listened anyway and finally accepted, even though he was from a different religion."
Winson believed it was God's divine favour that the man, a Jordanian, was willing to accept the role.
The entire film was shot using a humble DSLR camera. Despite that, the quality was as good as the other films shot with more advanced equipment.
"The story took us about a month for discussion and brainstorming. One of the main issues was the storyline. If we couldn't find a story that would convince us, how could we convince others? We almost gave up but after one night of praying, we felt led to continue. A simple idea came to our mind and we developed it, together with what we had at hand," Winson said.
Through this experience, Winson and Kyle learned that God could use what they already had in their hands, just like the five loaves and two fish, and turned it into something significant. "God doesn't need much. All He needs is our willingness to surrender what we have, however little, to make miracles happen," Winson said.
"We completed the short film in a month. It was just a simple idea and we didn't expect much. We were surprised that we were even shortlisted and even more surprised when we won."
Winson revealed that the prize money was given to the church for its ministries.
So, will Seed Pictures be going for bigger competitions in the future? "We don't have many plans but we will do whatever we can," Winson replied.
"We entered the competitions not for the prizes but to get to know more people in the industry and to network with them."
Indeed, God has open doors for them to connect with many people in the film industry, especially those in the Christian film industry.
"Our success has garnered many positive feedbacks, especially those from Chinese Christian circle. They are amazed at what we are doing. There were testimonies from people who were very encouraged by our videos. This encourages us to keep producing good films."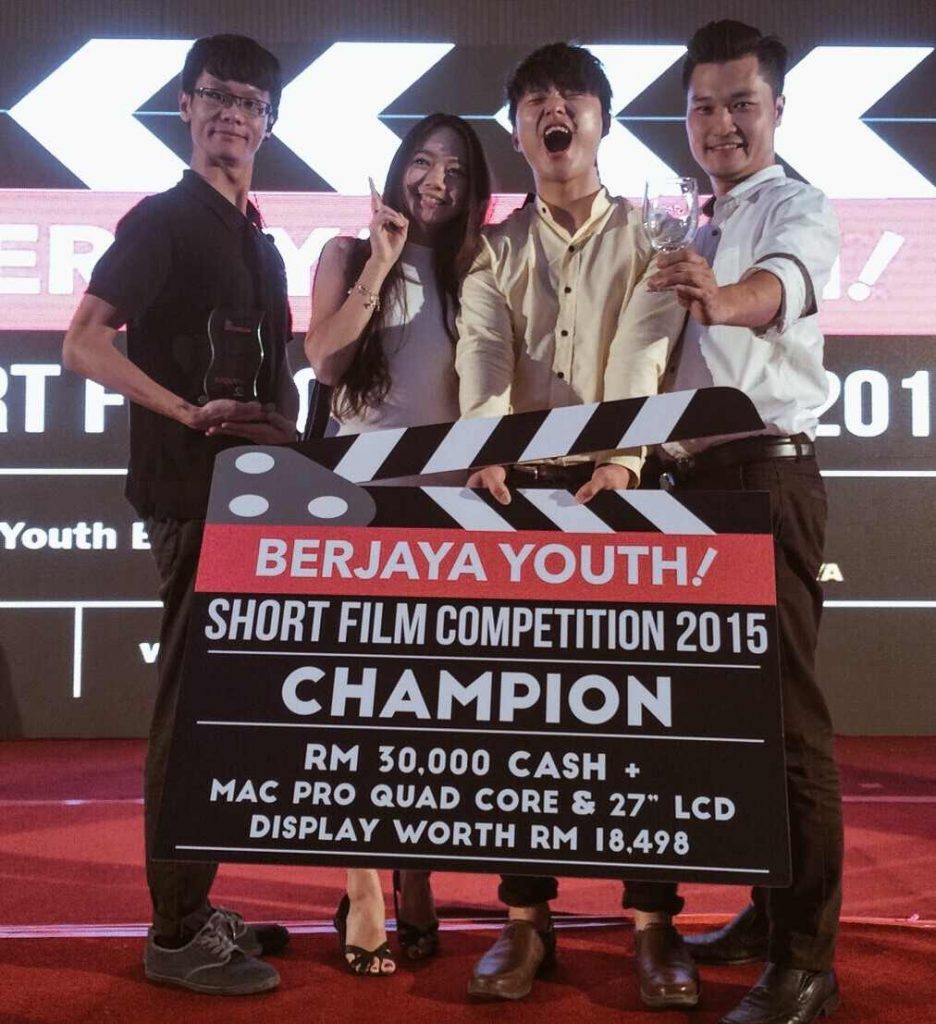 IMPACTING CHURCHES
When Winson and Kyle started Seed Pictures, they envisioned that it would be more than just an award-winning video production firm; they hoped it would influence the churches in Malaysia to be God-centred. Towards this end, they've produced a series of short videos, available on YouTube, called "What's Up Church?". The videos deliver an important message – that today's believers need to rethink and relearn their faith.
"Church has become more like a social club than a discipleship training centre under Christ. Our videos aim to provoke churches to re-evaluate their faith. We hope to become a voice in the wilderness to wake up sleeping believers," Winson said.
As Seed Pictures continues to impact churches with its thought-provoking films, it faces the challenge of resources. To alleviate this issue, it has started taking on commercial jobs to fund the work. But the greater challenge is to find volunteers who are passionate about short films to lighten their workload.
"Nevertheless, we will continue to make new videos that will bless the churches," Winson concluded.
(Check out Seed Pictures' short films, "Sam Sir" at https://www.youtube.com/watch?v=ItHzTVg2qsM and "Now I see" at https://www.youtube.com/watch?v=cvEix6Duyjg)
Asian Beacon: Apr – Jun 2018 (Vol 50 #2, p30-31)