Of all the Sunday school lessons she remembers best, the building of the Tabernacle in Exodus is the one that has stuck with Khoo Li Ying till today, even as an adult and mother of three.
The detailed instructions to construct the temple of God's dwelling among the Israelites; the intricate embellishments on the Ark of the Covenant, lampstand and the altar of burnt offerings; the call to Israel's finest artisans and craftsmen – all these fascinated her more than any other story in the Bible.
Li Ying has always loved arts and craft, and being a stickler for details, it is no surprise that the trained pharmacist is now an award-winning cake artist, and much sought after for celebration and special-occasion cakes.
Her creation, "The Emperor's Nightingale", sang its way to the judges' hearts at the Cake Challenge Malaysia 2014, sweeping the Best Theme Cake award in the fairytale category. She also picked up the silver medal in the Kuali Cake Decorating Challenge 2012 in the sports category with a cake bearing the Olympic torch and mascots to commemorate the Games in London that year.
But of all her many stunning creations, "Nightingale" and "Peranakan" are two of her proudest works, and entailed the most detailed processes that express the storyline.
"Nightingale", based on the Hans Christian Andersen fairytale, was inspired by Chinese antiques and steampunk-inspired art.
"The intricacy of this art genre reminded me of how God gave the design for the Tabernacle and all its implements. The details of the art and design are just fascinating," said Li Ying. "I'm also fascinated by how the Israelites gave their time and energy to the artwork. It's such an act of devotion."
She poured in the same devotion into "Peranakan", a four-tiered beauty of pastel colours embellished with intricate, delicate batik and embroidery patterns.
"Peranakan was a tribute to my grandma's Penang nyonya heritage and was based on the pastel colours, batik and embroidered kebaya that she used to wear."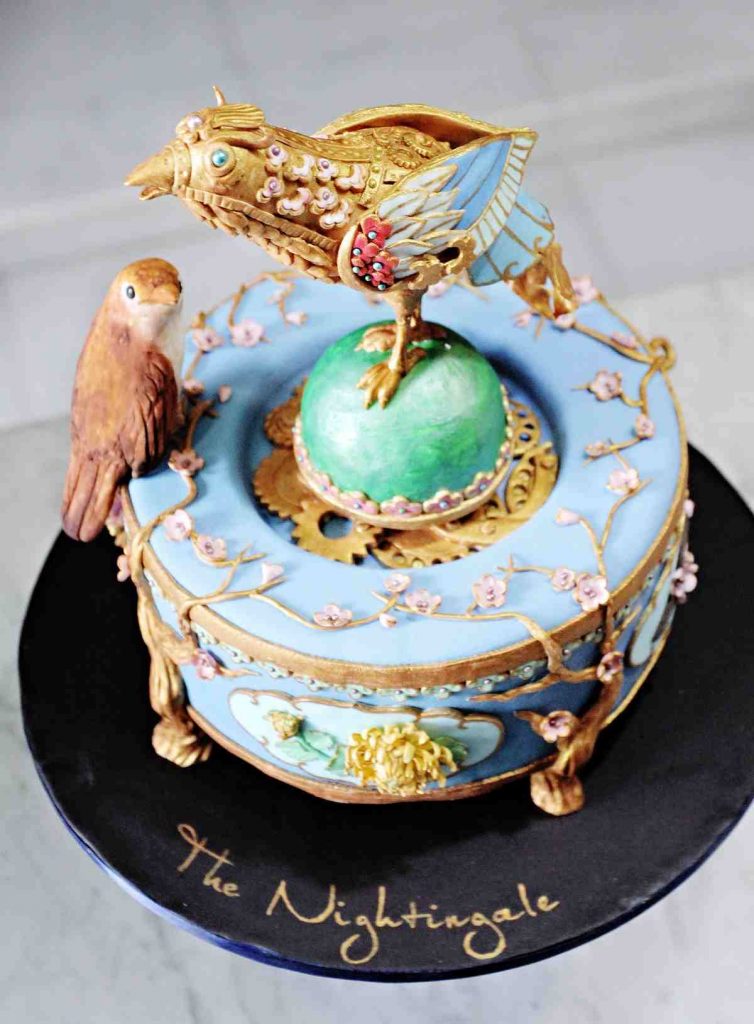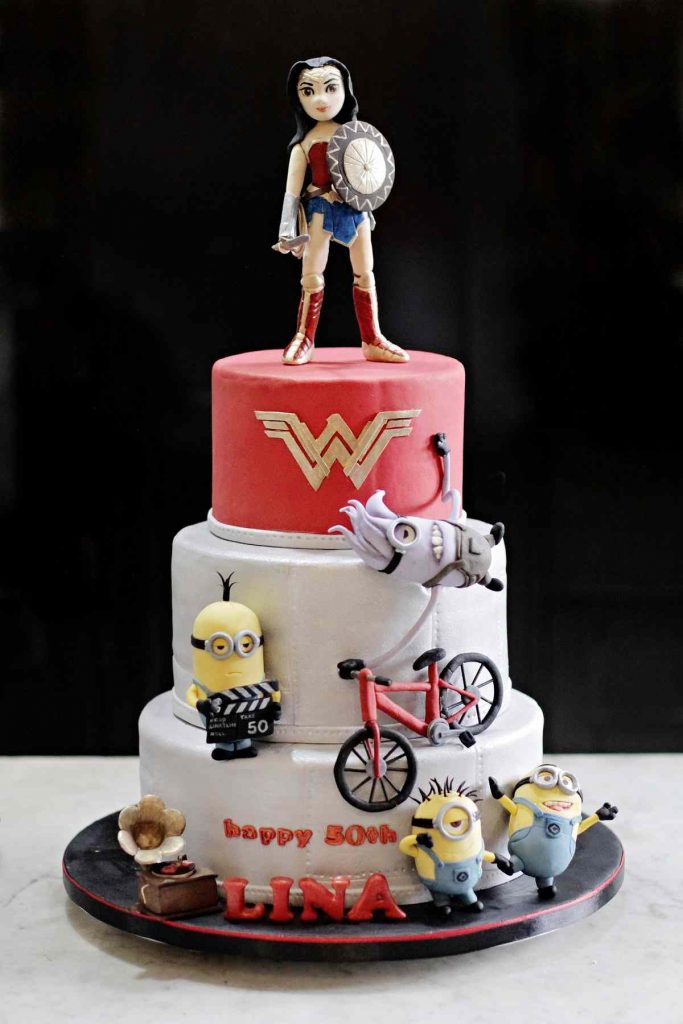 ALL IN THE DETAILS
For every cake, Li Ying does rigorous research into the story behind the theme assigned by the client and looks up pictures on the Internet. She then sketches draft designs, plots the dimensions of the cake and calculates ratios for ingredients to know how much cake is needed in order to create the design in mind.
A peek into her sketchbook is like looking at one of Leonardo Da Vinci's notebooks filled with mathematical formulas, physics calculations and 3D architectural drawings.
"I love the research and development process. It involves so many interesting subjects – history, science, art, anatomy.
"For example, in the Nightingale project, because the story had an oriental element to it, I wanted the emperor's music box to reflect Chinese imperial art. So I researched to get inspiration and ideas. I want my projects to be factually based. If I'm given a theme on 'Beauty and the Beast', I'd read up on French art and study pictures of it.
"For designs where part of the cake is suspended, a lot of planning goes into the internal structural support," she said, referring to her upside-down hanging Spiderman cake done for one of her daughters' birthdays, and other designs that involved a suspended beer can and a suspended coffee pot – with coffee poured out, to boot!
One of her other amazing feats is Hedwig the Owl, Harry Potter's pet in the JK Rowling fantasy series. To re-create Hedwig's wings, Li Ying studied anatomical drawings of a Snowy owl to create a replica of the actual wings, down to each feather.
Flowers are also a favourite theme and for cakes with floral elements, Li Ying will turn to nature to replicate the exact designs and measurements.
"You won't believe the amount of trivia and facts I've learnt from all my cake projects," she laughed.
It's this learning while doing that keeps her interested in cake decoration. Where hobbies are often quickly discarded in adulthood due to time constraints, Li Ying said cake decorating keeps her curious about life and the world.
"There is always one aspect that is new in every project that pushes the boundaries in design. I also only take on projects that excite me. I won't do repeat orders of the same design. I also don't like it when someone gives me a photo and asks me to do exactly as the photo shows. It has to be challenging and something different, or it's not worth it," said the mother of three girls 9 to 17.
INSPIRED BY THE CREATOR
Li Ying started out in 2008 with simple designs made from fondant at the encouragement of a friend.
"It was just like playing with kid's Play-Doh," she said. Her first designs were figurines of three little girls that went atop a birthday cake for her two elder daughters whose birthdates are days apart.
She experimented more with other birthday cakes for family members and found it both fun and more economical to make and decorate her own cakes rather than buying them.
As she posted photos of her creations on her Facebook account, friends started asking if she could bake and decorate cakes for birthday parties and weddings. Li Ying relished the challenge and began taking orders, telling friends to pay "whatever they wanted".
She only went "commercial" on a limited scale three years ago when she started Cakes with Ying, a Facebook page filled with jaw-dropping photos of her work. Li Ying doesn't pay to advertise or boost her page and is content with letting the page be shared by others on social media.
"Whatever profits I make go to buying better tools and materials, or for classes, books and tutorials so that I can improve my techniques. I don't get to pay myself much but I think it's more important to have a self-financing hobby that you enjoy."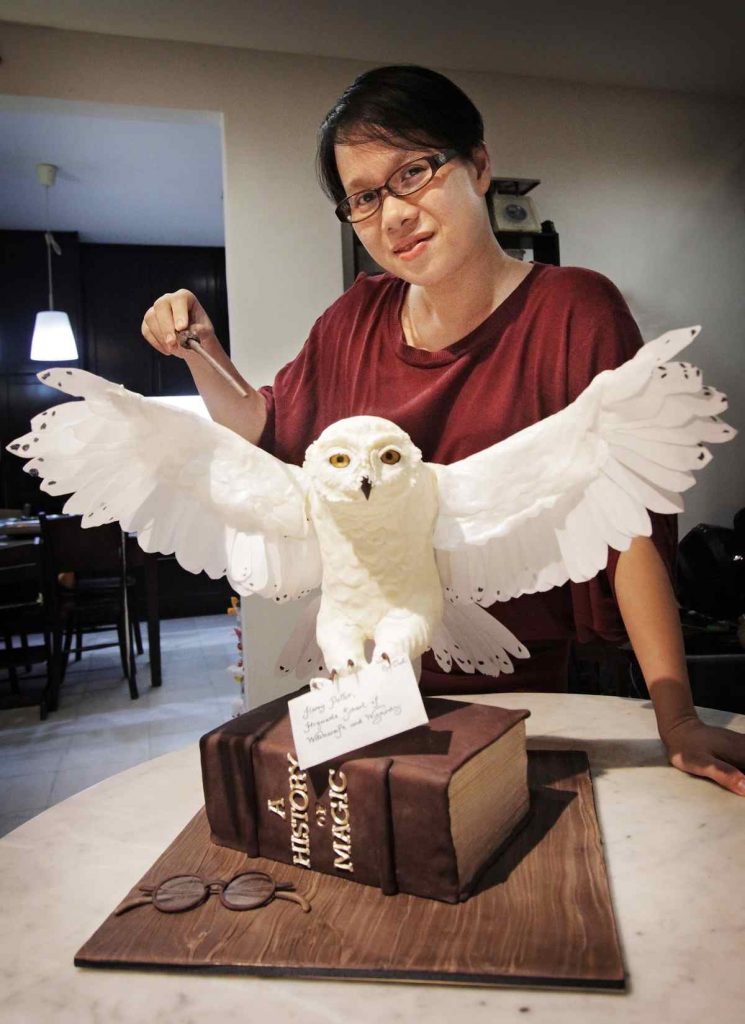 ADDING JOY TO CELEBRATION
Her creations span a wide range of designs, from ever-popular Star Wars characters and other movie-based themes to custom-made requests.
The satisfaction comes when clients give her feedback on how well the cake was received at their parties.
"When someone says, 'I can't believe that's cake!', that's really satisfying to hear. And just seeing their smiles and knowing that I contributed something to make their celebration happier makes my day.
"I will still see faults in my own work, though. I am my harshest critic," she said.
It's a trait she attributes to her late father, Francis.
"When I was a child, Dad would always ask me if I had done my best. And if I said yes, he would say, 'I think you can still do better'."
Her love for art and design has also given her a space to grow in her spiritual journey. You won't find Li Ying on stage in church rallying the congregation, but you will find her using her skills behind the scenes to decorate for church events, or at cupcake decorating sessions where people connect and have fellowship.
"Sometimes we forget that art has been so involved in worship," she said, bringing to mind the great Renaissance works of Michelangelo.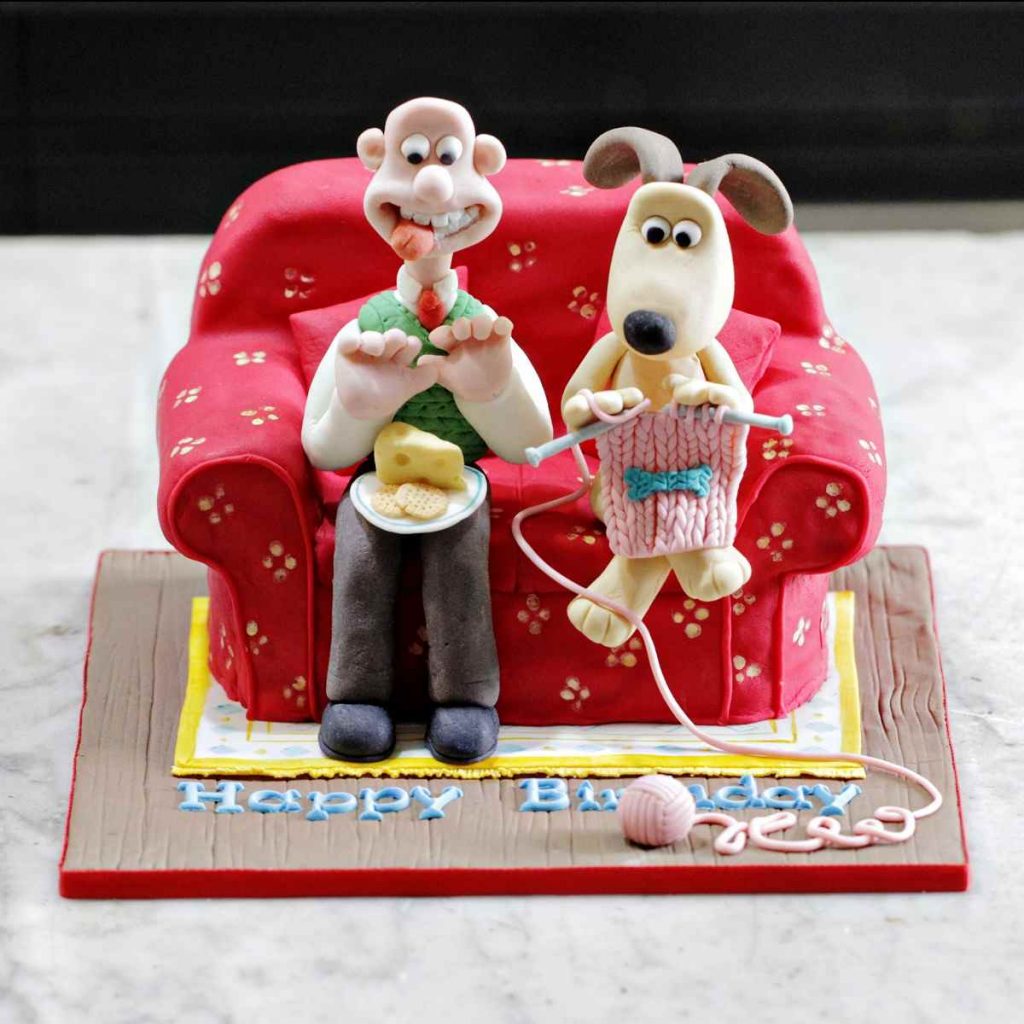 "Art also has a role in enhancing church life in a community. It can remind us of the Ultimate Creator and His grandeur and intelligence in nature and science. Being created in God's image means we are created to enjoy beauty and also to create."
Li Ying said some people have suggested she do sculptures instead because her cakes will get eaten.
"It's okay. People order a cake to celebrate a person or an occasion. And beautiful things in nature don't last anyway, like a rose or a sunset. It's about the moment of celebration."
Asian Beacon: Oct – Dec 2017 (Vol 49 #3, p6-7)